Center Development
Dhamma Phala is working to build a center to support 48 – 60 students and servers. In 2022 many of the existing facilities were deemed unsafe due to termite infestation, so a project was undertaken to repair the dorms and build a temporary Dhamma hall. As a result, courses were restarted in January 2023.  Now, Dhamma Phala is focused on rebuilding the permanent Dhamma Hall for 48 students and building the servers' quarters. In the future, the center's development will consist of: constructing more male and female individual rooms, expanding the kitchen and dining halls, building a water well, and establishing walking trails.
P5,000,000 ($90,000) Permanent Dhamma Hall Project
This project still needs more dana to complete. Help Dhamma Phala complete the permanent dhamma hall >>>
Dhamma Phala has completed the design of the new Dhamma Hall and is planning to start construction of the permanent Dhamma Hall where 48 – 60 students and servers can meditate together. The project is expected to start by December or January 2023 and will take approximately 8 – 12 months to complete. The project will cost between 5 to 6 million pesos.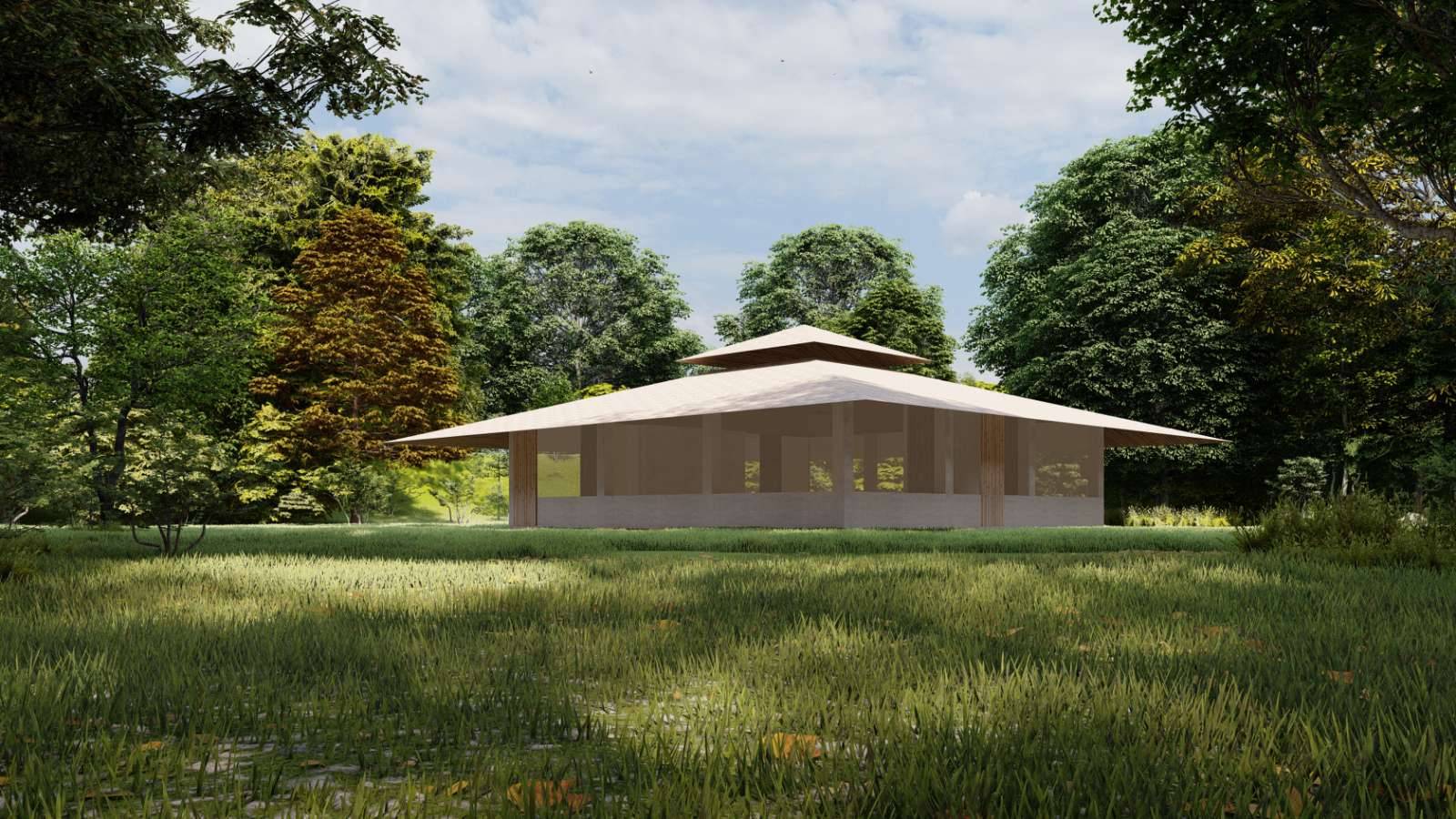 Local Philippines Contribution

International Contributions – US Tax Deductible
Note: Visit the Dana page for more ways to send international contributions.
P1,680,000 ($30,000) Servers' Quarters
There is a real need to build proper servers' quarters for those serving the course and those who wish to do long-term service at the center. Currently, all the servers are utilizing student spaces. To give privacy and more comfort to servers, plans are being made to rebuild the old house behind the kitchen area to accommodate servers. More dana is needed to help make this project come to fruition!
P11,074,537 ($195,000) – 48 Student Site Capacity Project
To increase student course capacity from 36 to 48 students. We hope to build additional new student residences, servers' quarters, bathrooms, water well, property fence and walking trails.
Completed Projects
P3,407,550 ($60,000) Building Safety, Repairs and Fence Project
In 2022 Dhamma Phala experienced a total shutdown as their buildings were deemed unfit for use due to building foundation issues and severe termite damage.
To help re-open the center and fix structural issues in their buildings, Dhamma Phala and VCF partnered to establish the Philippines Relief Fund. With the support of generous old students — Dhamma Phala has now rebuilt the dormitory buildings, renovated the bathroom blocks, improved the dining halls, and installed a new gate. The temporary Dhamma Hall, which will go back to its original use as the dining hall, now has steel frames that replaced the previously wooden structures to avoid future damage.
With this rebuilding and reconstruction project, Dhamma Phala was able to re-open in January 2023 and hold its first ten-day course after a hiatus of 3 years due to Covid and termite damage.
Dhamma Phala rebuilt 4 dorms and 4 bathroom blocks, plus purchased new beds and fixtures. The dorms' wood structural members were replaced with steel and the organic walls were replaced with drywall. The bathrooms were repaired and new toilets were installed.
In addition, we installed a concrete block wall near the female bathroom block for safety and security. 

Thank you for your support!